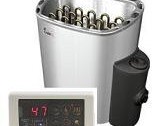 Jaki wybrać piec i sterownik do sauny.
Czy wybrać piec ze sterownikiem wewnętrznym czy ze sterownikiem na zewnątrz.
Jeżeli określiliśmy już moc pieca do sauny to kolejnym krokiem zanim wybierzemy konkretną markę a później model to musimy określić czy nasz piec powinien mieć sterowanie przy piecu czy też sterownik zewnętrzny.Od razu na samym początku wyjaśnię i być może to już niektórym ułatwi wybór, że piece ze sterownikiem na zewnątrz są droższe od tych ze sterowaniem zintegrowanym z piecem.
Czytaj więcej